Anaheim Orange County Hotel and Lodging Association: November Legislative Luncheon Recap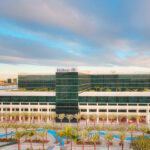 ANAHEIM – November 16th, 2021 
The Anaheim Orange County Hotel and Lodging Association (AOCHLA) hosted their annual Legislative Luncheon event on November 16th, 2021 at the Hilton Anaheim. The luncheon was kindly sponsored by ePipe, a Southern California plumbing business servicing commercial, residential, hotel, HOA, and specialty projects.  ePipe presented case studies centered on how their plumbing services provide innovative solutions to hotels. Guests networked and mingled among themselves as Hilton Anaheim staff catered lunch. Afterward, AOCHLA welcomed Jeffrey Thurrell, Partner at Fisher & Phillips, to present relevant legislative updates facing the hospitality industry going into 2022.
The November Legislative Luncheon was an overall successful event with the association welcoming back familiar faces, including their fellow active and affiliate members. As the last event of 2021, the Anaheim Orange County Hotel and Lodging Association is looking forward to a new year of future events and networking opportunities.
To view Jeff Thurrell's 2022 Legislative Update and Key Legal Developments presentation, please click here.