AOCHLA Event Recap: Leading Through Adversity to Advantage Luncheon with Marie Knight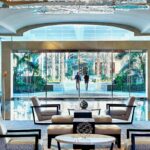 The Anaheim Orange County Hotel and Lodging Association welcomed its members back to their first luncheon of the New Year on Tuesday, January 18th. The Association joined its members at the Anaheim Marriott alongside their event sponsor UltraServ and guest speaker Marie Knight.
Marie Knight, Owner and Chief Influencer of Knight Leadership Solutions, focused her presentation on the impact that COVID-19 brought to the hotel industry and how hoteliers can use this adversity to their advantage in adapting new solutions and becoming a better leader.
The Anaheim Marriott hosted a wonderful 3-course meal for the Association's members as Knight offered a fresh take on leadership in hospitality.
The associations January luncheon was an overall success and a great start to the new year.
Stay tuned for future updates and details regarding AOCHLA's next luncheon on Tuesday, March 15th. 
To view Marie Knight's presentation, please click here.