California Lodging Investment Conference completes successful fifth annual event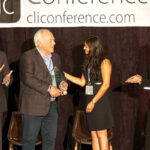 Travel Daily News – March 21, 2022
Officials of the California Lodging Investment Conference [CLIC], the only hospitality conference focused on the California hotel market, today announced the successful conclusion of its fifth annual event held at the JW Marriott Anaheim Resort.  With nearly 300 attendees, the one-day event hosted multiple panels led by industry experts discussing the California hotel real estate market in depth.
"With a fantastic introductory keynote by Bruce Ford of Lodging Econometrics and panel topics ranging from the current status of the Golden State hotel market to hotel lending and investment opportunities, this truly was one of the best events we've held to-date," said Craig Sullivan, founder and president, [CLIC].  "While there are innumerable hospitality events throughout the year, [CLIC] is the only conference to focus exclusively on the California marketplace.  We pride ourselves on the expert speakers and participants we assemble each year, and with 10 brands, five lenders and hundreds of industry professionals, we have hit a high-water mark in 2022.  The bar has been raised for 2023, and I look forward to an even more successful event next year."
The full-day event began with a keynote address by Bruce Ford, senior vice president, director of global business development, Lodging Econometrics, where he gave an in-depth synopsis of the California hotel real estate landscape.  Additional panels included the "Hotel Brand Panel," "Overview of the California Hotel Market," "Hotel Development Round Table: The Agony and The Ecstasy," "Hotel Lending Panel" and "Hotel Investment: Opportunity Now."  Each discussion provided attendees an opportunity to gain valuable insight into the current climate surrounding the California hotel industry.
To read the full article, please visit: https://www.traveldailynews.com/post/california-lodging-investment-conference-completes-successful-fifth-annual-event