Disney Showcases MASSIVE Suite at Most Luxurious California Hotel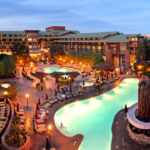 Inside the Magic – September 1, 2021
Have you ever wanted to take a magical vacation at the Disney Parks? Staying on property makes a Disney trip as magical as it can possibly be. There are a variety of options for staying on property at Walt Disney World Resort in Orlando, Florida. But when it comes to staying on property at Disneyland Resort in Anaheim, California, you have three hotels to choose from: Disneyland Hotel, Disney's Paradise Pier Hotel, and Disney's Grand Californian Hotel & Spa.
But, naturally, the most grand of them all is Disney's Grand Californian.
While Disney's Paradise Pier Hotel has the lowest price point of the three and the Disneyland Hotel is the most historic, neither of these hotels are as luxurious as Disney's Grand Californian Hotel & Spa.
Disney's Grand Californian Hotel & Spa is the closest hotel to the Disney Parks. Just a short walking distance from the theme parks (Disneyland Park and Disney California Adventure Park), this hotel is situated right in the Disney Park magic. The hotel has a private entrance to Downtown Disney and Disney California Adventure, and many of the rooms offer stunning views of the Disneyland Resort (including the rides at the Parks!). The rooms at this hotel really are absolutely magical.
Disney's Grand Californian Hotel & Spa at Disneyland is the equivalent of a Disney Deluxe Resort at Walt Disney World, and the pricing is quite similar. Standard rooms can range in cost from around $500 per night to around $900 per night, depending on the room and travel dates. The hotel also offers suites for Guests, but there are an even more luxurious accommodations than that…
The themed suites at the Grand Californian.
To read the full article please visit: https://insidethemagic.net/2021/09/disneys-grand-californian-hotel-and-spa-el-capitan-suite-ba1/