Disneyland plans Pixar hotel makeover of Paradise Pier Hotel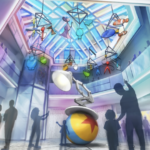 The Orange County Register – April 28, 2022
Disneyland will sprinkle a healthy dose of Pixar pixie dust on the aging Paradise Pier Hotel as part of a multimillion-dollar renovation that will include a new back entrance to Disney California Adventure for hotel guests.
The Pixar makeover of the Paradise Pier Hotel was announced during a State of the Disneyland Resort presentation hosted by Disneyland Resort President Ken Potrock on Wednesday, April 27 at the Hyperion Theater in Disney California Adventure.
Potrock's presentation comes a year after Disney's Anaheim theme parks reopened after 412 days of pandemic-related closures.
"It is a really important milestone and another anchor in our continuous momentum, really not just for Disneyland but for Anaheim and Orange County and other related business partners," Potrock said during a media briefing earlier Wednesday.
The Pixar Hotel will have a new entry portal into Disney California Adventure for hotel guests. The new DCA back entrance is expected to stretch from Paradise Gardens in DCA to Disney's Grand Californian Hotel vehicle entrance via a backstage passageway.
Paradise Pier Hotel will not close during the Pixar makeover with portions of the hotel renovated on a rotating basis.
To read the full article, please visit: https://www.ocregister.com/2022/04/28/disneyland-plans-pixar-hotel-makeover-of-paradise-pier-hotel/