Element by Westin Anaheim Resort Convention Center hotel review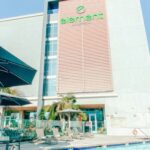 Disneyland Tour Guide – April 8, 2022
There's a brand new beautiful hotel in Anaheim near Disneyland, the Element by Westin Anaheim Resort Convention Center. They invited me to come check out their new property located just a short 10 minute walk from Disneyland. Let me share with you the many reasons why I'd recommend staying here!  Room options with queens or a king, plus bunk beds and a sofa bed. Kitchen or kitchenette in every room, lots of different choices and rooms that sleep up to 8 people!  Let's dive into more details below.
This post contains affiliate links which means I make a little something when you purchase through the link with no extra cost to you.
About the rooms
Element offers several room types.  Each room has a modern feel with a full kitchen or kitchenette (depends on the size of the room), appliances, microwave, sofa sleeper bed, counter to sit and eat, TV and bathroom with a shower in every room.  The brand new clean rooms are functional with lots of storage.  Here are more details and photos of each room type.
To read the full article, please visit: https://disneylandtourguide.com/disneyland-resort/element-by-westin-anaheim-resort-convention-center-hotel-review/?fbclid=IwAR3YdcRDeoFh20RJtNITkXEGnerCg99bocU9o96fRlWo5Ui-hw2ldEGhw0s