Element by Westin opens Element Anaheim Resort Convention Center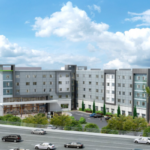 Travel Daily News – July 13, 2021
ANAHEIM, CA – Element by Westin, part of Marriott International, has debuted in Anaheim, California with the opening of the 174-suite Element Anaheim Resort Convention Center. Owned by Dynamic City Capital and managed by Lodging Dynamics Hospitality Group of Provo, Utah, the new longer-stay eco-focused hotel will be conveniently located to all major attractions.
Situated just 0.25 miles from Disneyland and one mile from the Anaheim Convention Center, the Element Anaheim Resort Convention Center offers convenient access to Knott's Berry Farm, Universal Studios and Angel Stadium of Anaheim. The five-story hotel is perfect for a short trip or longer stay and is nearby to a variety of shopping, dining and entertainment options.
"We are thrilled to introduce the stylish and sustainable Element brand to the Anaheim area," said, Chris Dougherty, Area General Manager for Lodging Dynamics Hospitality Group. "We anticipate the hotel to become a popular spot for travelers coming to the area and we plan on meeting the needs of every type of guest. Whether coming to Anaheim on a family vacation to visit one of the many theme parks, or on a business trip, we will provide each guest with an experience that is unique to them."
Guest rooms include a fully-equipped kitchen, efficient work space with a large desk, spa-inspired bathrooms, the signature Heavenly Bed and high-speed Wi-Fi. The Element Anaheim Resort Convention Center features an assortment of suites, including family-friendly Kids Suites offering a full kitchen and bunk beds. When it is time to unwind, the hotel has the latest in-room entertainment technology, allowing guests to access their Hulu, Netflix, Amazon Prime and HBO Max accounts, through the HDTV.
To read the full article visit: https://www.traveldailynews.com/post/element-by-westin-opens-element-anaheim-resort-convention-center