Event Recap: Orchid Quartet Performs Disney Animation, Pixar, and Star Wars Music at JW Marriott Anaheim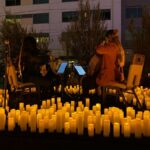 Laughing Place – October 6, 2021
For several years now, the Los Angeles-based Orchid Quartet has been steadily growing a reputation as one of the must-see acts performing accessible string music around the world. And lately they've been bringing their sizable talents to the perimeter of the Happiest Place On Earth via a regular "Songs from Magical Movie Soundtracks" concert on the open-air patio of Anaheim's JW Marriott hotel, just around the corner from the Disneyland Resort.
I had the pleasure of attending the "Magical Movie Soundtracks" performance this Tuesday, and I was left ready to recommend fellow pop-culture-loving friends check out this Disney-themed show, not to mention Orchid Quartet's other upcoming Candlelight Concerts.
Bathed in the glow of over a thousand candles spread out on the stage and floor around them, the four incredibly talented members of Orchid Quartet opened their "Songs from Magical Movie Soundtracks" set with "When You Wish Upon a Star" from Walt Disney's animated classic Pinocchio, then launched into tunes from Cinderella, The Little Mermaid, Frozen, Beauty and the Beast, and the treasured love ballad "A Whole New World" from Aladdin.
To read the full article please visit: https://www.laughingplace.com/w/articles/2021/10/06/event-recap-orchid-quartet-performs-disney-animation-pixar-and-star-wars-music-at-jw-marriott-anaheim/