Lodging leaders discuss California's comeback at CLIC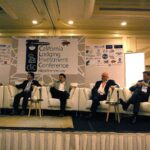 Hotel Management Net – March 18, 2022
Market recovery, inflation and high construction costs in a post-pandemic world were three of the hot topics discussed by lodging industry leaders at this year's recent California Lodging Investment Conference.
The fifth annual CLIC event was held in-person for the first time in two years on March 10 at the JW Marriott Anaheim (Calif.) Resort. Just over 250 attendees registered for the event, according to CLIC's founder and president, Craig Sullivan.
"Everybody here is in the California hotel market, that's all we're focused on," Sullivan said. "It's the first time any of us have been together in-person in over two years."
The event kicked off with a keynote address from Bruce Ford, SVP and director of global business development at Lodging Econometrics, who used a range of lodging data to paint a picture of the state's lodging industry and how it plans to recover in the wake of the COVID-19 pandemic.
"Much of what owners and management companies have faced over the past 24 months has been no return on investment," Ford said. "They're interested in renovations today. They're interested in brand conversions. They're interested in getting back to the return on investment of their portfolio."
Big Picture 
While the early planning stages of hotel development continue to grow, new construction starts and under construction projects continue to decline due to pandemic-related delays and price increases.
According to data from LE, in the fourth quarter of 2020 there were 1,487 under construction hotels in California. In the fourth quarter of 2021 there were 972. Overall, there's been an 8 percent decrease in the number of projects entering the construction pipeline. Ford said there are now more new hotel openings happening than there are new construction announcements.
To read the full article, please visit: https://www.hotelmanagement.net/operate/lodging-leaders-discuss-californias-comeback-clic