Radisson Blu Anaheim receives AAA's celebrated Four Diamond Designation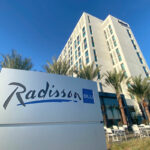 OC Breeze – October 28, 2021
Radisson Blu Anaheim, which recently opened in November 2020, has received the coveted AAA Four Diamond designation. With AAA as one of America's oldest and most trusted brands, this designation is a prestigious honor for the hotel.
"We are honored to receive the acclaimed Four Diamond designation from AAA," said Steven Lindburg, General Manager of Radisson Blu Anaheim. "This award reflects the commitment of our staff and management to provide every guest with exceptional hospitality throughout their visit."
Radisson Blu Anaheim is part of a select group of hotels receiving the Four Diamond honor, representing the top tier of the hospitality industry in North America. Hotels at this level, which include just 6.5% of the nearly 27,000 AAA Diamond lodgings, are noted for their upscale style and amenities enhanced with the right touch of service. To earn the AAA Four Diamond designation, hotels and restaurants must pass a rigorous evaluation that includes unannounced, in-person evaluations by AAA's expert inspectors.
To read the full article, please visit: https://www.oc-breeze.com/2021/10/28/204619_radisson-blu-anaheim-receives-aaas-celebrated-four-diamond-designation/