Sheraton Park Hotel Celebrate's Grand Re-Opening After $33 Million Renovation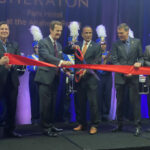 Anaheim Observer – March 30, 2022
The Sheraton Park Hotel, one of the hospitality icons of the Anaheim Resort, officially commemorated its re-opening with a ribbon-cutting ceremony and celebration on Tuesday after a multi-million renovation.
The Anaheim High School marching band was assembled in the grand ballroom to energize the event, and were followed by a welcome from General Manager Ian Gee. Mayor Harry Sidhu and Councilmembers Steve Faessel, Trevor O'Neil, Jose Diaz and Avelino Valencia were on hand to join in the ceremonial ribbon cutting.
The Sheraton Park struggled through financial issues under previous owners prior to its acquisition by Aimbridge Hospitality, a leading global hospitality company. Aimbridge invested $33 million into an extensive renovation and modernization of the 490-room property, located adjacent to the Anaheim Convention Center.  The hotel employees 199 people and offers about 30,000 sq. ft of indoor and outdoor event space.
To read the full article, please visit: https://www.anaheimobserver.com/2022/03/30/sheraton-park-hotel-celebrates-grand-re-opening-after-33-million-renovation/