Two New Luxury Hotels and ocV!BE District Catapult Anaheim, California's Meetings Capabilities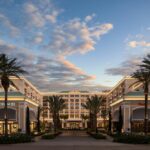 Meetings Today – November 3, 2021
Big things are afoot in Anaheim, California—quite an assertion for a city that's already home to Disneyland and the largest convention center on the West Coast.
But when I traveled to Anaheim in October to take a media tour with Visit Anaheim of some of the newest developments in town, I saw a major transformation in progress that is sure to create big waves in the hospitality industry.
Two luxury properties just got added to the city's hotel portfolio and a major sports and entertainment complex is planned, with the goal of debuting itself to the world in time for the 2028 Olympics in Los Angeles.
Two New Luxury Resorts 
While Anaheim has many of the amenities that planners want—a built-in offsite draw like Disneyland and a massive convention center—it didn't have the luxury hotels that many corporate and executive meeting professionals prefer. With the JW Marriott, Anaheim Resort opening in summer 2020 and Westin Anaheim Resort on its heels in June 2021, the idea that Anaheim doesn't have luxury properties to offer groups is no longer valid.
"Adding this new luxury product to Anaheim's hotel portfolio fills a void that Anaheim previously had. As a result of these two hotels opening, we are already receiving new leads and attracting new business to the destination," said Jay Burress, president and CEO of Visit Anaheim. "These new high-end options are undoubtedly bringing new opportunities to our city and have the potential to expand existing business."
I had the opportunity to visit both AAA Four Diamond properties myself. Here's what planners need to know.
To read the full article, please visit: https://www.meetingstoday.com/articles/143017/new-luxury-hotels-ocvbe-district-catapult-anaheim-californias-meetings